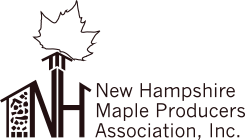 Union, NH: The New Hampshire Maple Producers Association (NHMPA) Board of Directors has been closely watching the effect that COVID-19 (commonly known as coronavirus) is having on our local communities, the state of NH, and our neighboring states. It is with heavy hearts that the NHMPA Board of Directors has chosen to cancel NH Maple Weekend and the remainder of NH Maple Month.
NH sugar makers will still have maple syrup and maple products available as this maple sugaring season was off to a great start. Local sugar houses can be contacted directly to see if they are open for guests. Additionally, NH sugar houses may offer off-hours pick-up, sell their products online, and be willing to mail their delicious maple products right to the customers door.
Each March, NH maple sugaring families look forward to welcoming folks to their sugar houses and showing off NH's rich maple tradition. The NHMPA is in the early stages of planning a fall NH sugar house event. More information will be available shortly.
About the New Hampshire Maple Producers Association, Inc: The New Hampshire Maple Producers Association, Inc. is a non-profit trade association dedicated to promoting the high quality of New Hampshire's maple sugaring tradition. The NHMPA organizes several events throughout the year including NH Maple Weekend on March 20-21, 2021, when our sugar houses are open to the public, NH Maple Month, the Felker Prize for NH youth and the tapping of the first maple by the governor. Learn more at www.nhmapleproducers.com.