Maple Syrup Grading Process
Maple syrup is graded or categorized based on the flavor and how much light passes through (translucence). Variations are due to weather, soil, climate, point in season, boiling and more. The quality of all grades is the same.
---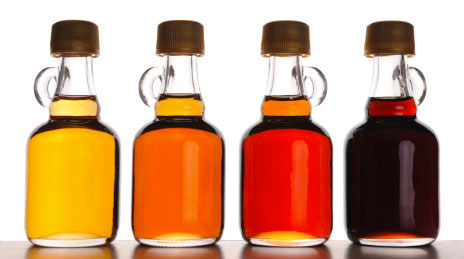 Golden • Delicate Taste
The first runs of maple sap in the early spring make the Grade A Golden Delicate syrup. This treasured syrup has a light, golden color with a mild, delicate taste. Often used to make maple cream, candy and sugar, it is also excellent as a table syrup – or over ice cream or yogurt.
Amber • Rich Taste
Gradually, as the maple season progresses, the syrup darkens a shade to Grade A Amber Rich. A light amber color and full-bodied flavor, this class of syrup is the product of choice for consumers who desire the classic maple syrup flavor. Great for pouring over pancakes, ice cream and oatmeal, this grade is also used for making maple cream and sugar.
Dark • Robust Taste
Nearing the end of the 4-6 week season, the syrup darkens again to Grade A Dark Robust. Featuring a more pronounced maple flavor, this class will satisfy those consumers who desire the strong flavors of what had previously been considered Grade B. With its stronger, more robust maple flavor, this grade can also be used for cooking.
Very Dark • Strong Taste
At the very end of the season, some maple producers make a small amount of Grade A Very Dark syrup, a darker variety with a strong maple flavor. While still delicious on pancakes, this grade translates well into cooking, where the rich maple flavors carry through to the cooked dish.