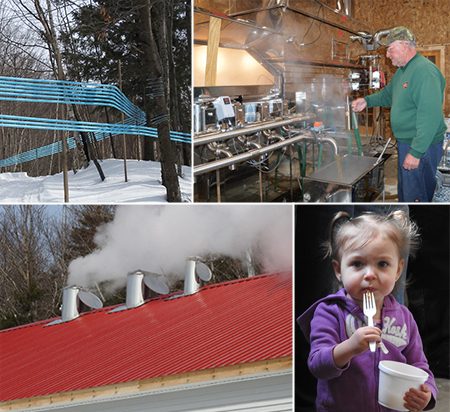 73 Main Street
Lancaster
New Hampshire
03584
US
March is Maple Month, a great time to visit and see our operations in full effect. Each spring we tap more than 26,000 trees and boil half a million gallons of maple sap to produce 11,000 gallons of our pure maple syrup.
Visit Fuller's Sugarhouse during Maple Weekend at our two locations – our sugarhouse in Jefferson, NH and our Country Store in Lancaster, NH – on March 21 and 22 from 10 am to 3 pm.
Our sugarhouse in Jefferson is located at 2021 White Mountain Highway (Route 2). We will have a walking tour of the woods where you can see how we collect the sap from the maple trees. (Please dress accordingly for the weather and muddy conditions). Inside the sugarhouse, see how we convert the sap into our pure maple syrup. If weather permits, we will be boiling the sap. We'll be serving sugar-on-snow and samples of our 2020 crop and our products will be available for purchase.
Our Country Store, located at 267 Main Street in Lancaster, NH is fully stocked with all of our pure maple products and other New Hampshire and New England-made products. Treat yourself to samples of our 2020 crop and complimentary coffee and donuts as you shop.
Full name of primary contact:
ed fuller
Handicap Accessible
Accessible
Bathroom Facilities Available
Available