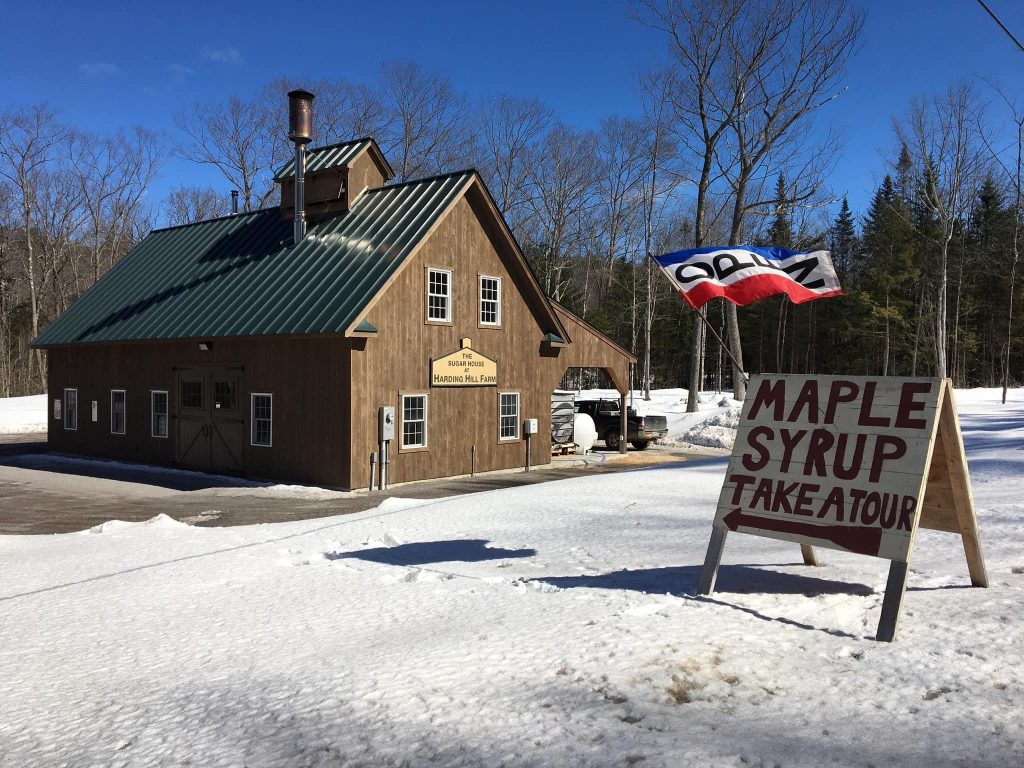 545 Stagecoach Road Sunapee, NH
545 Stagecoach Road
Sunapee
New Hampshire
03782
US
At Harding Hill Farm, we are passionate about maple! This family tradition is a great way to end the winter and begin our spring. The Webb Family has been making syrup for three generations and over 60 years, and our previous sugarhouse on NH Route 103 dated back to the 1920's. In 2019/2020, we constructed a new sugarhouse abutting our main farm at the corner of Stagecoach Road and NH Route 103, just a few miles east of our previous spot. We're 3 miles from Mount Sunapee Resort and 3 miles from historic Sunapee Harbor. The new building gives us much needed space, visibility, and accessibility from recreation trails.
Our maple sugaring operation now has over 5,000 taps in three locations within the Lake Sunapee Region. The sugarhouse remains wood-fired, and we use our own firewood to fuel the evaporator. It's always a family affair, so please join us to celebrate spring in New Hampshire. Our sugarhouse tours and retail shop are open every weekend in March and usually early April too. Have a large group or class? Contact us ahead for accommodations.
Take a Tour of our Sugarhouse

Sample Fresh Maple Syrup

Visit Our Warm Retail Shop – Maple Syrup, Candy, Cream & More!

Our Freezer is Stocked with Homegrown Grass Fed Beef
*NEW THIS YEAR* Our friends from Scott Brothers Kitchen are making their NH debut with a Maple Sunday Breakfast. Visit our Event Page or Facebook Event for Details.
Visit our Website for all Events and Open Hours!
Can't make it to the sugarhouse this season? No worries. Check out our Online Farm Store for shipping options.
Full name of primary contact:
Tyler, Kelly and Van Webb
Handicap Accessible
Accessible
Bathroom Facilities Available
Available