673 Turkey Street, Chocorua, NH, United States
673 Turkey Street
Tamworth
New Hampshire
03886
US
This year marks our 15 season at Turkey Street Maples. We will be open for visitors and sales on
Saturday, March 25th, 2023 10am-3pm
Visit Turkey Street Maples, a sugar house in Tamworth, Chocorua NH, as we boil sap into maple syrup. Experience the atmosphere of a true dooryard sugar house. Weather permitting, collect sap from buckets and carry it to the sugar house.
Visit our website for directions and additional information.
We will have for sale on this Saturday:
Maple Syrup in a variety of bottles.
In 2006, with over 25 years of sugaring experiences with friends and families, Tim began making plans for building a sugarhouse on the land where he and Kate live.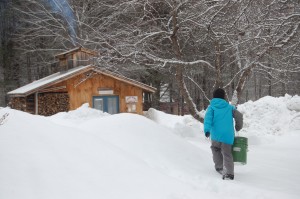 Construction began in the fall of 2006, when the concrete slab was first poured.  The remainder of the the construction took place in the late spring and early summer of 2007.  "4 Stooges Construction," (as Tim fondly refers to his crew, comprised of his father, John, his brother, Ed, his friend and former sugaring partner, John D., and Kate's father, Bob) constructed the sugarhouse in less than 4 weeks.
The wood fired evaporator and arch were moved in late summer 2007 and Tim patiently waited for spring to come to begin boiling.  He began running sap lines in the summer and fall of 2007, ending up with 475 taps for the maiden voyage year of Turkey Street Maples.
March of 2008 marked the first draw of maple syrup in the new Turkey Street Maples Sugar House.  The sugaring season ran until about mid-April this first year and 85 gallons of syrup was produced.
We are proud to provide local New Hampshire maple syrup to all of our customers!
Our syrup can be purchased to be shipped and for local pick up on our website.
Full name of primary contact:
Timothy J. Robinson
Handicap Accessible
Accessible
Bathroom Facilities Available
NOT available